Xperia Solutions creates trio of ERP software programs for apparel and footwear manufacturers and distributors.
Emmaus, PA - October 13, 2014
Software innovator Xperia Solutions (
www.XperiaSolutions.com
) has launched the new
Xpressiv™ Business Intelligence Suite
made up of three ERP software programs designed to provide easy-to-use, easily understandable data to every team member at a company.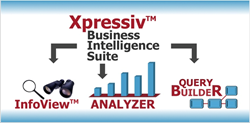 Based on more than 30 years of experience in the manufacturing industry, the suite helps apparel and footwear manufacturers, importers, and distributors quickly and easily view and analyze information using powerful drill-down functionality, manage data exports and imports with intuitive query building tools, and more.
"In the past, this data was usually reserved for a company's high level executives to use in quickly spotting trends, identifying opportunities, and shortening the time required to take decisive action," said Alan Robezzoli, Vice President of Sales & Marketing for Xperia. "Our Business Intelligence Suite makes it accessible at every level within a company. Now everyone from managers to authorized customer-facing personnel can work smarter and contribute more effectively, increasing the company's competitive edge and helping improve its bottom line. Xperia continues to lead the apparel software industry in the development of intuitive yet powerful programs."
The
Xpressiv Business Intelligence Suite
features detailed information combined with software graphics for its three components:
Analyzer - key performance indicators are graphically represented in real time with instant drill down to underlying data. Create charts and graphs from ERP data, spreadsheets, and online information. Allows different dashboards and views based on authority and job function. Security features ensure access only by authorized personnel.
InfoView - an intuitive graphical interface enables all employees in the organization to grasp information. Customizable personalized data views, robust search, and drill down. Instant download of files for further analysis & reporting by authorized employees.
Query Builder – build and distribute reports quickly and easily with no I.T. knowledge necessary. Smart query interface knows how the files connect and relate to each other. Export results to Excel, PDF and other formats for for further analysis.
Graphs and charts can be generated that are relevant for each level of employee within a company based on their role and responsibilities. The data can include sales, payment history and status, production, customer history and more. Additional details can be found on the company's website -
http://www.xperiasolutions.com/Apparel-BI-Software.html
.
About Xperia Solutions
Founded in 1984, Xperia is an industry leader in enterprise management and business intelligence solutions for the apparel and footwear industries. Xperia's software suites help businesses of all sizes manage the full spectrum of business intelligence and manufacturing, importing and distribution requirements including warehouse inventory, procurement, production, financials, e-commerce and more. Xperia offers affordable cloud-based SaaS and enterprise solutions designed to address the needs of companies of all sizes from startups to multi-billion dollar corporations. For more information about Xperia products and services, visit the company's web site.